Hot Food and Hot Buffets
Our hot food menu has been designed under the same principles we use to create the rest of our offerings; high quality, pretence-free food made from good simple ingredients.
Each quarterly menu is designed with love by a local chef that we respect and admire.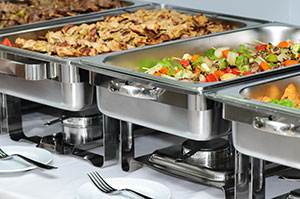 ** Minimum Order is for 12 people **
12 - 23 people, choose up to two options split evenly
24 - 47 people, choose up to three options split evenly
48 or more people, choose up to four options split evenly
All hot food menus include a complimentary dessert selection or a Cheese, Biscuits and Chutney Platter.

---
Ordering Hot Food
Hot food orders work differently to our cold catering service. If this is the first time you've ordered hot food from us, please read the notes below to quickly understand how the service works.
Start by choosing a selection of dishes. The number of different dishes you can order depends on the number of people you are ordering for. See the explanation in the blue box at the top of the page for numbers and prices.
Once you complete a hot food order, you will be asked to complete a special hot food only questionnaire just after you confirm your order. Here, we'll ask you questions to assist us with delivery, setup and collection of equipment.
We deliver your order based on the time you tell us you are eating. Our drivers will arrive, setup the equipment and set everything out for you so it's ready to eat. When we return to collect our equipment, we can also dispose of any food waste for you.
All orders are delivered in chaffing pans to keep them hot, with signs so your guests know what everything is. If you wish to add cutlery, glassware, linen or crockery you can add these items just before you complete your order.
If you have any questions about ordering hot food, please call us on 0161 850 1100
All prices quoted exclude VAT where applicable.
Call South - the Business Caterer in Manchester, Salford, Trafford, Bolton, Stockport, Bury and Oldham on 0161 850 1100 with any questions